Eligibility period
Recent achievement (2012-2021)
Gypsum product manufacturer
Saint-Gobain Construction Products Belgium - Gyproc®
Architect/Designer
Global design and build - Brussels Airlines / Brand consultancy fitch
Builder/Contractor
TecnoSpace NV
Project start/Completion date
November 2017 – July 2018
Project start/Completion date
© TecnoSpace NV
The Loft is an open luxury lounge space designed by Lexus, showcasing objects from the Lexus design awards, letting guests discover the brand's luxury lifestyle.
To meet the specific demands for lighting, spa facilities, sitting areas, places to sleep and work, the plasterboards needed to fulfill the requirements for acoustics, robustness and fire resistance. The challenge was in using the right product in the right place.
The difficulty in this project, besides the installation of plaster boards and retaining walls, indirect lighting and fire resistant PlaGyp® ceilings, was the placement of extra high (> 4 m) fire resistant Gypsum MS150 2.50-50.20A walls.
The lighting was adapted to the different areas of the Lounge.
By applying light coves with indirect lighting in different ways, a different atmosphere in each area is created.
Combined with the lighting installations from the Lexus Design Awards entrees, these light coves created a breathtaking total experience.
Acoustically absorbent ceilings (Gyproc® Rigitone® 12/25Q) were installed with integrated lights and inspection hatches. Stretch ceilings were added to the gypsum walls and ceiling, allowing for a subtle play of light through a special technique of projection and LED lights.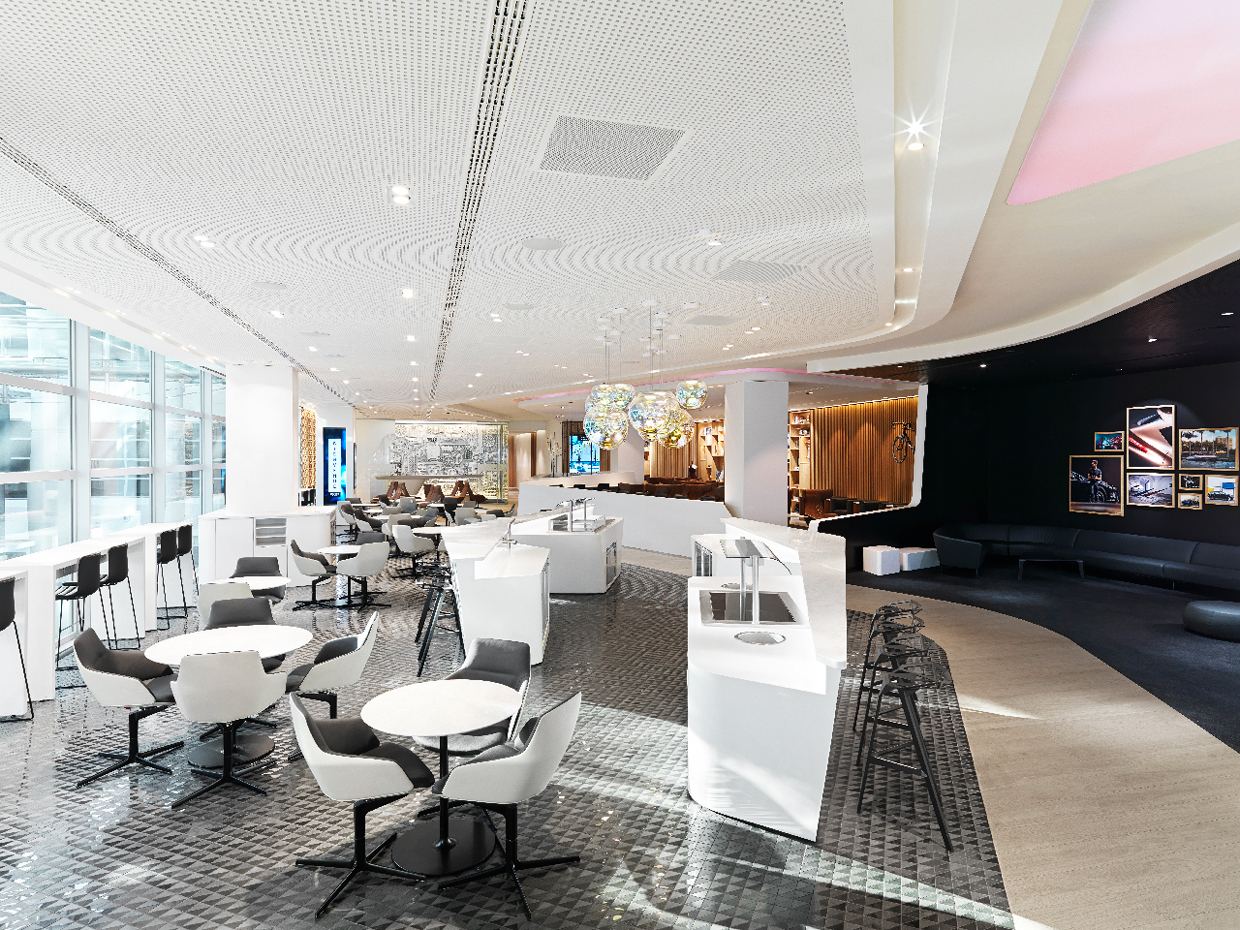 What key aspect(s) of the New European Bauhaus initiative does the project fit best with?
How does the project contribute to these aspects?
Brussels Airlines and Lexus wanted to offer the passengers a lounge area which exceeds their expectations while exuding the Lexus style. This concept is expressed in an original, contemporary design throughout the entire space, with high-quality furniture and materials, precisely executed details and facilities for working, entertainment, relaxation, and recharging. Great technical skills and knowledge of interior systems were required to fulfill the fire-resistant requirements of the walls and ceiling, as for the acoustic panels and light curves. The placement of extra high (> 4 m) fire resistant gypsum MS150 2.50-50.20A walls resulted in the invention of a new solution for fire resistant walls with a height of > 4 m.