Eligibility period
Historic achievement (1961-2011)
Client
smilike.me Berlin MVZ GbR
Gypsum product manufacturer
Knauf Gips KG, Iphofen
Architect/Designer
Ligne Architekten, Berlin
Builder/Contractor
Ligne Berlin GmbH und Lüdke Ausbau GmbH, Hamburg
Project start/Completion date
2019/2020
Project start/Completion date
© Knauf/Dirk Masbaum
The Berlin architectural office "Ligne Architekten" translated the innovative dental orthopaedics of the smilike.me centres into an ultra-modern interior design with a bright and cosy-looking spatial concept. A free-standing, detached room cell in dry construction, also called "centrepiece" by the architects, was designed. Anika Wolff (Ligne Architekten): "The centrepiece zones the showroom and shields the bright treatment rooms behind it, separated by glass walls, from the waiting area." The room structure was to consist of fitting individual parts easy and quick to assemble and dismantle on site and easy to transport. Another challenge was that the free-standing room cell had to have a certain stability without being connected to the wall or ceiling, and the acoustics had to be right.
The egg-shaped, free-standing room cell in the middle of the smilike.me centre is a real eye-catcher: the illuminated base makes it look like it is floating, it looks spacious. In the cocoon-like, soundproof room within the room, relaxed counselling sessions and presentations with modern media take place in a pleasant atmosphere. Wolff describes that they fiddled around with various 3-D models, as they only had 9m2 of floor space. Mineral-wool insulation panels additionally diminish sound from outside in the completely decoupled Infocentre and provide discreet entertainment. A Knauf Cleaneo Akustik ceiling system panel with integrated ventilation above the conference table regulates speech intelligibility. Ceiling sails with various light coves and effect lights float above the centrepiece. The special moulding was prefabricated in detail by the "Special Calculation and Objects Department" (SOKO) at the Knauf factory from individual parts. "The centrepiece in the smilike.me centre is bent three-dimensionally in all possible directions with bending radii that are at the limit of what is possible," explains Knauf's Scholz. The three-dimensional construction of wooden frames with metal profiles is reminiscent of a boat skeleton and is triple boarded with 6 mm thick Knauf GKB shaped boards. Peripheral tie beams made of glued MDF boards, fitted with mortise and tenon joints, screwed and glued, stabilise the body at the curves. This makes the construction extremely stable. All cut-outs for electrical cables as well as the empty pipes were made in the frame construction at the factory. The drywall shell inside and out was filled to Q4 quality level. The surrounding walls were also built-in dry construction, using moulded parts with a rounded facing shell. They meet the F90 fire protection standard.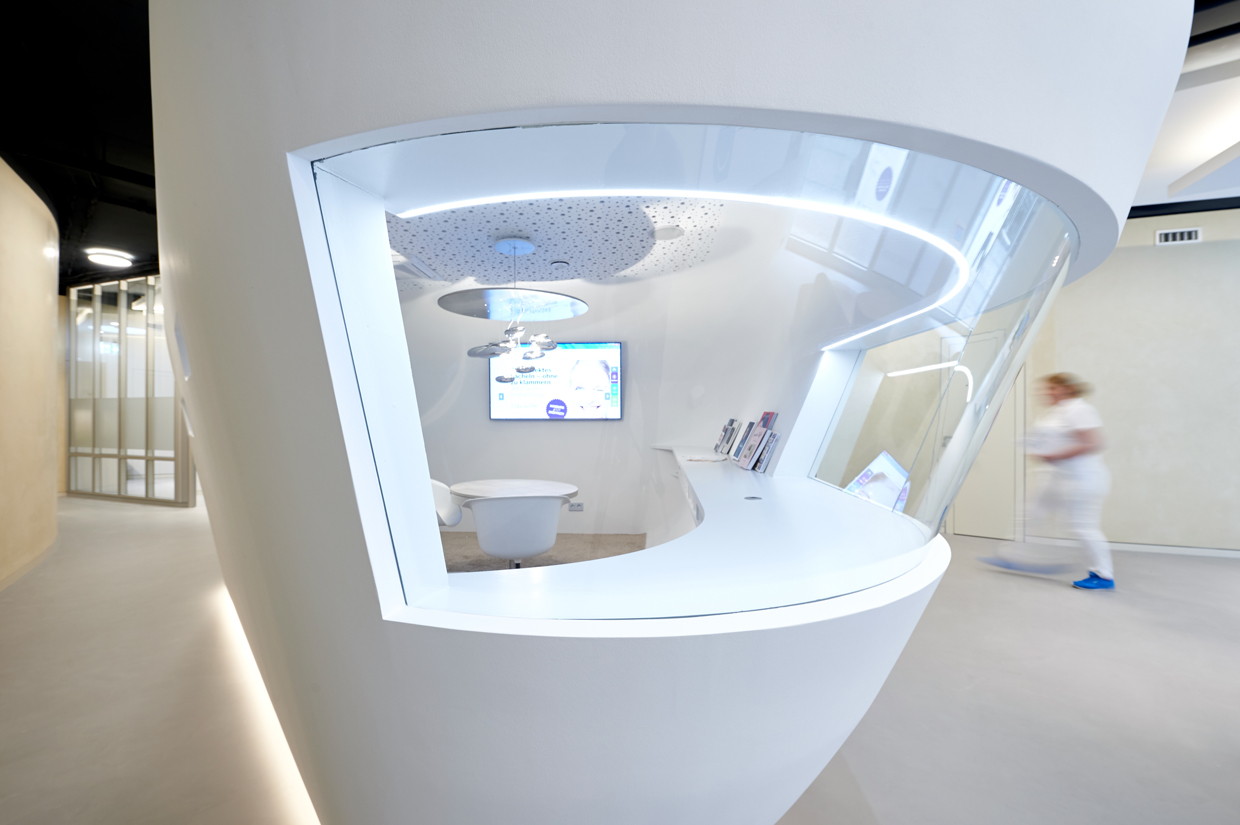 What key aspect(s) of the New European Bauhaus initiative does the project fit best with?
How does the project contribute to these aspects?
Innovative design and flexible use of space