Eligibility period
Recent achievement (2012-2021)
Client
Immobilien Development und Beteiligungsgesellschaft Niedersachsen mit beschränkter Haftung IDB & Co. - Objekt Lüneburg - KG Lüneburg
Gypsum product manufacturer
Saint-Gobain Rigips GmbH, Düsseldorf
Architect/Designer
q:arc Architektur, Design, Lüneburg
Builder/Contractor
Heide - Aktiv - Trockenbau GmbH & Co. KG, Scharnebeck
Project start/Completion date
01.06.2016 - 01.03.2017
Project start/Completion date
© q:arc Architektur, Design, Lüneburg/Bernhard Claßen
The modern apartment building Quartier 23 was built in only 9 months on a plot of 2.713 m². 17 brand-new individual units were created by using the full range of Saint-Gobain Rigips products including innovations like Rigips® Habito® or Rigips® Glasroc® H. The size of the apartments ranges from 87 up to 144 m², each with a unique and innovative floor plan with organic forms. The whole building was created with the focus to achieve the DGNB-certification in Gold. The contractor had to solve multiple challenges such as to find a material with which the curved inner dry lining walls of the staircase could be lined and onto which the handrail could be mounted easily. The new Rigips® Habito® was perfect for all these requirements. In the apartments various shaped walls were mounted with 6 mm Rigips® GK-Form®. The straight walls were lined with Rigips® Die Harte and Rigips® Die Weiße. The outdoor loggias had a ceiling flush mount to the concrete flare. The moisture resistant product Rigips® Glasroc® H could be used here, after a structural validation by Rigips concerning the wind and suction loads was supplied. To build this extraordinary project, excellent craftsmanship and an innovative attitude towards the use of new products were necessary.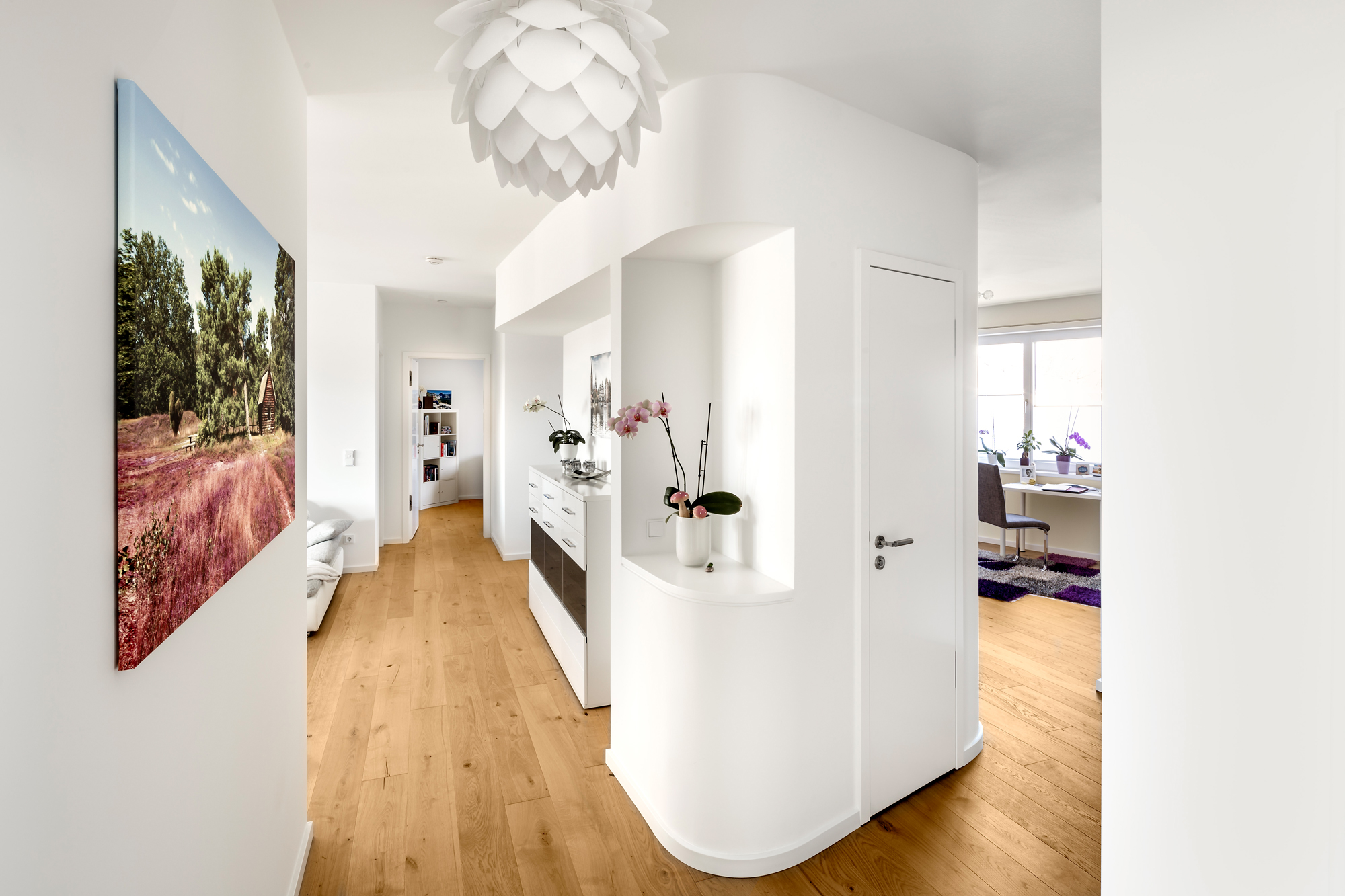 What key aspect(s) of the New European Bauhaus initiative does the project fit best with?
How does the project contribute to these aspects?
DGNB-certification in Gold was achieved and therefore the project combines perfectly the demand for a high quality living space and sustainability. Innovative products like Rigips® Habito® and Rigips® Glasroc® H were chosen by the contractor and their advantages convinced the architect and the building owner to change the original plans. Organic walls were created by using special GK Form plasterboard in 6 mm to create a unique and modern aesthetic in each of the 17 apartments.