Eligibility period
Recent achievement (2012-2021)
Client
Akademie Deutscher Genossenschaften ADG, Montabaur
Gypsum product manufacturer
Saint-Gobain Rigips GmbH, Düsseldorf
Architect/Designer
Architektur Graf, Dernbach
Builder/Contractor
G+K Trockenbau GmbH, Neuwied
Project start/Completion date
01.01.2014 - 01.08.2014
The 4-star Hotel Schloss Montabauer was built directly next to the old castle. The unconventionally designed elliptical building offers 77 high-quality exclusive designed double rooms on 2 floors, each with an individual design. The generous atrium in the centre of the building opens to the 2 floors and is covered by a large 300 square metres glass roof. The creation & implementation of the architect's specific ideas were very challenging and most drywall constructions in the building were realized differently to the former specification. Based on the contractor's technical know-how Rigips® products were chosen in order to meet the highest demands of sound insulation (Rigips ® Die Blaue) and fire prevention (Rigips® Glasroc® F). The highest level of craftsmanship was required in the atrium to create and realize the more than 300 openings for the glass and illumination elements into the elliptically shaped plasterboard wall. Here the wall finishing was executed according to the highest German standard Q4 with Rigips® ProMix Plus in order to prevent streaks of light on the walls. As a result, of this perfect craftsmanship the Hotel Schloss Montabaur is an outstanding example of the German hotel scenery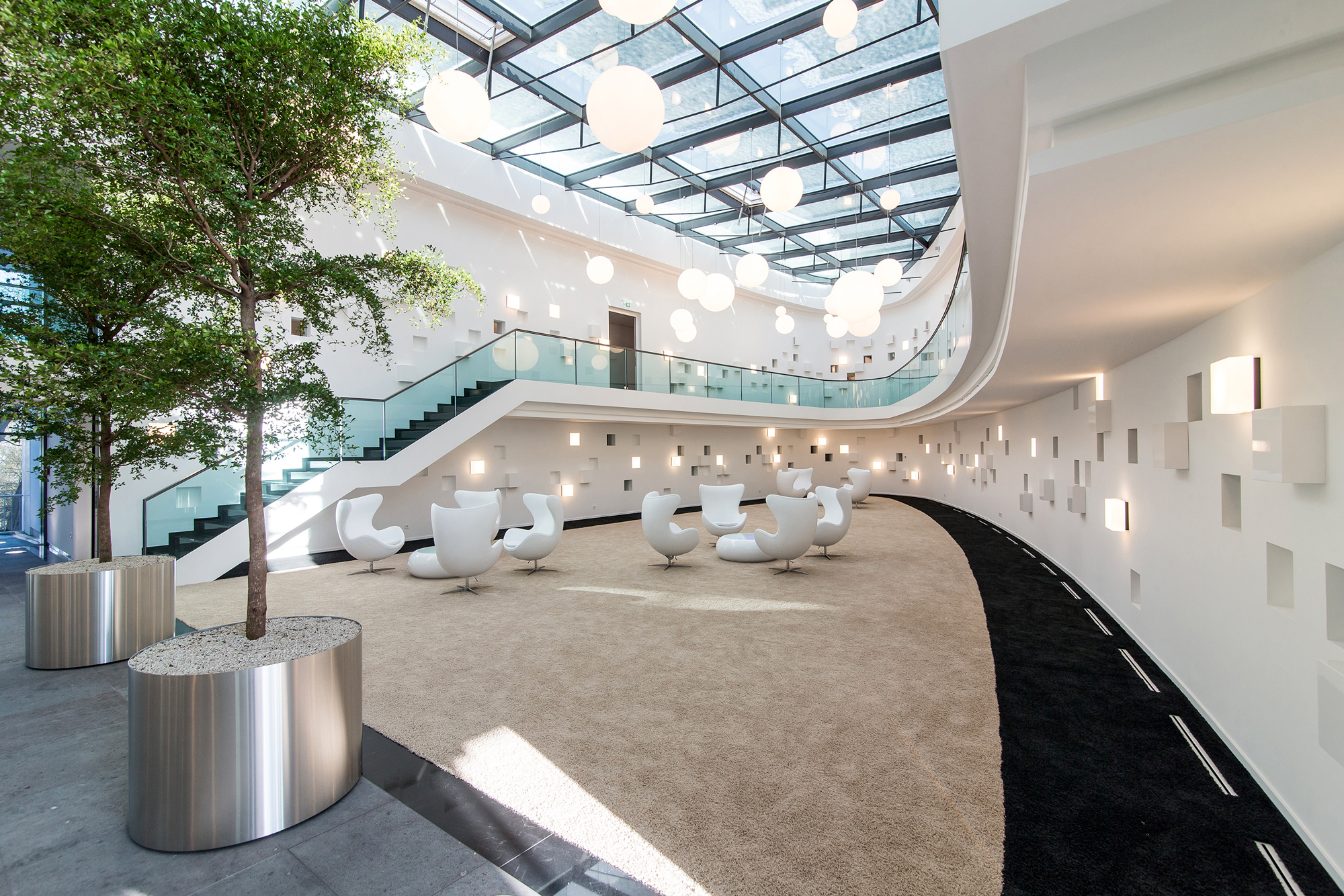 What key aspect(s) of the New European Bauhaus initiative does the project fit best with?
How does the project contribute to these aspects?
Extraordinary aesthetics were achieved with the perfectly installed 300 square holes in the elliptical plasterboard wall to provide for the glass and illumination elements. Furthermore, the entire drywall surface was fully covered with a layer of Rigips® ProMix Plus to reach the Q4 quality level. Close cooperation between architect and contractor led to many changes in the original specification. Due to the contractor's profound knowledge and experience in dry lining many new solutions were developed to create this unique hotel building. Moreover, the highest demands of fire prevention and sound insulation were met.