Eligibility period
Recent achievement (2012-2021)
Client
L'Oréal, Düsseldorf
Gypsum product manufacturer
Knauf Gips KG, Iphofen
Architect/Designer
HPP Architekten GmbH, Düsseldorf
Builder/Contractor
AS-Trockenausbau, Altenkirchen
Project start/Completion date
2017/2018
Project start/Completion date
© Knauf/Fabian Linden
With its upper floors slightly shifted like stacked boxes, the 16-storey building designed by HPP Architekten on Düsseldorf's Johannstraße is a landmark visible from afar. The new German headquarters of L'Oréal does not only make a statement through its outer form. When designing the rooms – around 22,000 square metres – for its approximately 900 employees, the cosmetics manufacturer attached great importance to modern architecture for a "new way of working". At first glance, glass walls scattered throughout the open space offer themselves as smaller meeting rooms. And five rotundas suspended from the ceiling in Knauf drywall technology provide clear orientation.
Large, circular and visually "as if from a single mould": for a high quality of finish, the planners relied on basic bodies in the form of prefabricated dry construction elements for all rotundas. Knauf Gips KG not only supplied the customised and numbered prefabricated parts, which were produced in the factory with the help of frame technology. The scope of supply also included the assembly elements and plans, according to which the dry builders assembled the various building elements on site. In this way, it was possible to create spatial structures that, despite different surfaces, do not visually betray any approaches.
The 1.70 m diameter rotunda above the café lounge on the ground floor of L'Oréal is clad with an upper ring of curved and backlit expanded metal panels and a lower ring of curved plasterboard. Three recessed light joints designed without visible joints combine curved plasterboard mouldings with flush integrated and continuous LED strips in U-profiles as well as acrylic glass covering. The second, smaller rotunda above the reception counter of the academy is constructed similarly to the one above the cafeteria counter but consists exclusively of plaster mouldings and does without the expanded metal cladding.
The seating area in the cafeteria area of the staff restaurant on the first floor is crowned by a multi-level rotunda attached to the raw ceiling on Halfen rails and painted black. The salad bar and the seating area are marked by white-painted single barrels made of gypsum boards with a diameter of around 4 metres. For the rotundas on the lower levels, the metalworker prefabricated the scaffolding and mounted it to the raw ceiling. The drywallers clad them according to a construction plan prepared by Knauf with the plaster mouldings delivered ready for installation and filled them in Q3 quality. The electrician delivered the LED lighting and installed it in the light joints.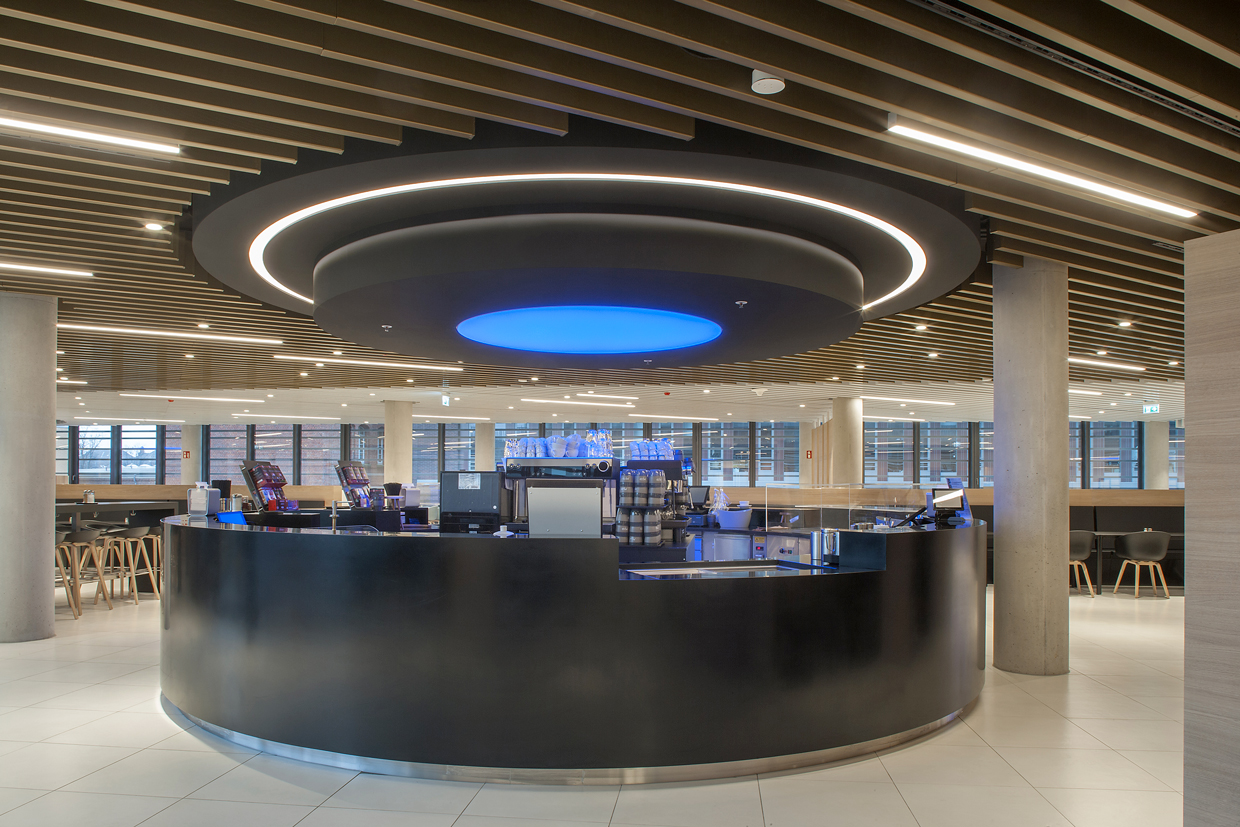 What key aspect(s) of the New European Bauhaus initiative does the project fit best with?
How does the project contribute to these aspects?
Prefabricated plaster elements as a special design element on the ceiling