Eligibility period
Recent achievement (2012-2021)
Client
Knauf Gips KG, Iphofen
Gypsum product manufacturer
Knauf Gips KG, Iphofen
Architect/Designer
Hetterich Architekten BDA, Würzburg und Atelier Fischer
Builder/Contractor
Jaeger Ausbau GmbH + Co KG, Würzburg
Project start/Completion date
2019/2020
Project start/Completion date
© Knauf/Stefan Ernst
In 2020, Knauf opened a new canteen for employees and visitors with seating for around 200 people. The building complex also includes a modern canteen kitchen, twelve meeting rooms and a lounge area. The company created space for the various uses with a new building that serves as a connecting element between the headquarters, a multifunctional building and research/development in Iphofen. The interior design of the building, which was realised in reinforced concrete skeleton construction, was to show the entire range of Knauf products. This was to take place in the form of design examples for floors, walls and wall coverings as well as acoustically effective new developments in the ceiling area. Heating-cooling ceilings were also to be used, as well as a particularly fast-setting screed solution. Due to the casino's elliptical basic shape, all room edges had to be designed as curves. For this, as well as for details such as curved coving in the dining room, moulded parts were to be used for the most part, which were developed by the Knauf Special Calculation and Objects Department (SOKO) and pre-produced in the factory.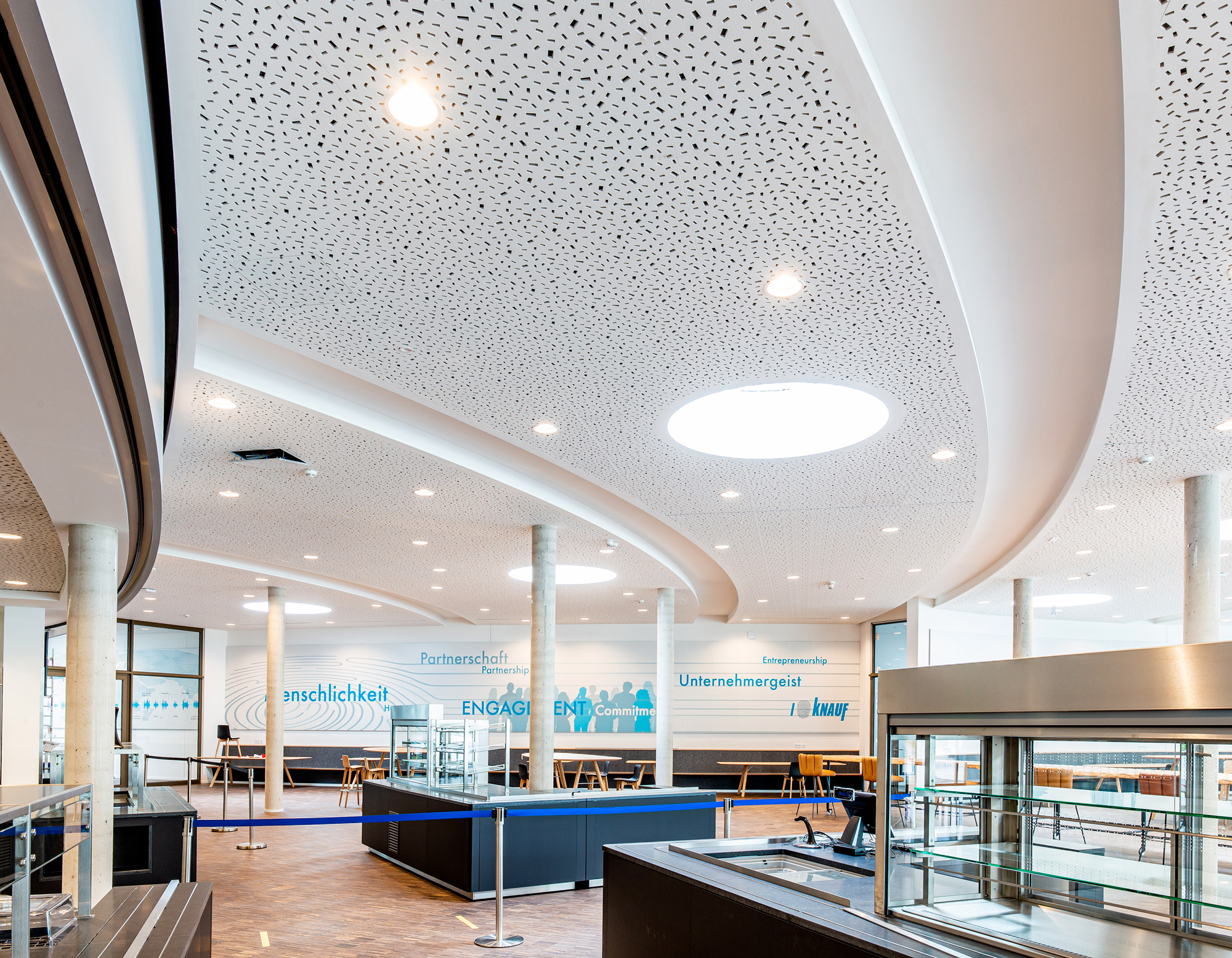 What key aspect(s) of the New European Bauhaus initiative does the project fit best with?
How does the project contribute to these aspects?
The high-quality finish creates a pleasant and attractive room atmosphere.