Eligibility period
Historic achievement (1961-2011)
Client
Komatsu Germany GmbH
Gypsum product manufacturer
VG-ORTH GmbH & Co. KG Holeburgweg 24 DE – 37627 Stadtoldendorf Niedersachsen
Architect/Designer
htm.a Hartmann Architektur GmbH Walter-Gieseking-Straße 14 DE 30159 Hannover
Builder/Contractor
Shell construction KÖGEL BAU GmbH & Co. KG Bad Oeynhausen. Post and beam facade/windows Metallbau Burckhardt GmbH Isernhagen. Roofing Hanebutt GmbH Neustadt am Rübenberge. Curtain wall Trimo DE GmbH / MTD BIO München. Special glazing electrochromic glass Halio International. Solid gypsum blocks Trockenbau Müller Lichtenstein
Project start/Completion date
Spring 2017 until fall 2019
Komatsu Germany established the Komatsu Hannover Innovation & Technical Center (HITeC) as a focus of product development in Europe. A new building was erected according to plans by htm.a Hartmann Architektur GmbH Hanover. The building consists of five full floors and a basement with Work Café. The upper floors contain meeting rooms, open space offices and also partitioned offices. The building has a gross floor area of approx. 4,320 m² and is planned as a solid reinforced concrete structure with internal reinforced concrete columns and a solid staircase and utility core for building bracing.
The space was formed with solid gypsum blocks in high and medium density according to EN 12859. These blocks showed that their advantages, which are well known from residential constructions, can also be optimally used in office and commercial buildings. One of the main reasons for using the blocks was, from the point of view of sustainability, the desire for mono-material constructions. The construction efficiency of gypsum blocks also includes the fact that the homogeneous walls do not bind into the surrounding parts of the building and, due to their elastic-decoupled connections, can be deconstructed with little mechanical effort.
Solid gypsum blocks are used in residential and commercial construction as slender solid walls that can be erected almost dry without plaster. They are used as room-enclosing structures with high fire resistance up to 180 minutes and as elastically supported, sound-decoupled walls to achieve sound insulation targets.
Area-efficiently slim with 60-, 80- or 100-mm wall thickness
Comparatively lightweight with 58 ≤ m < 142 kg/m².
Wall heights with large openings up to 7 m
Without interlocking with surrounding building components
Without substructure, cavities, insulation layers
Only filled in the joint area, almost dry construction
Applicable to all construction variants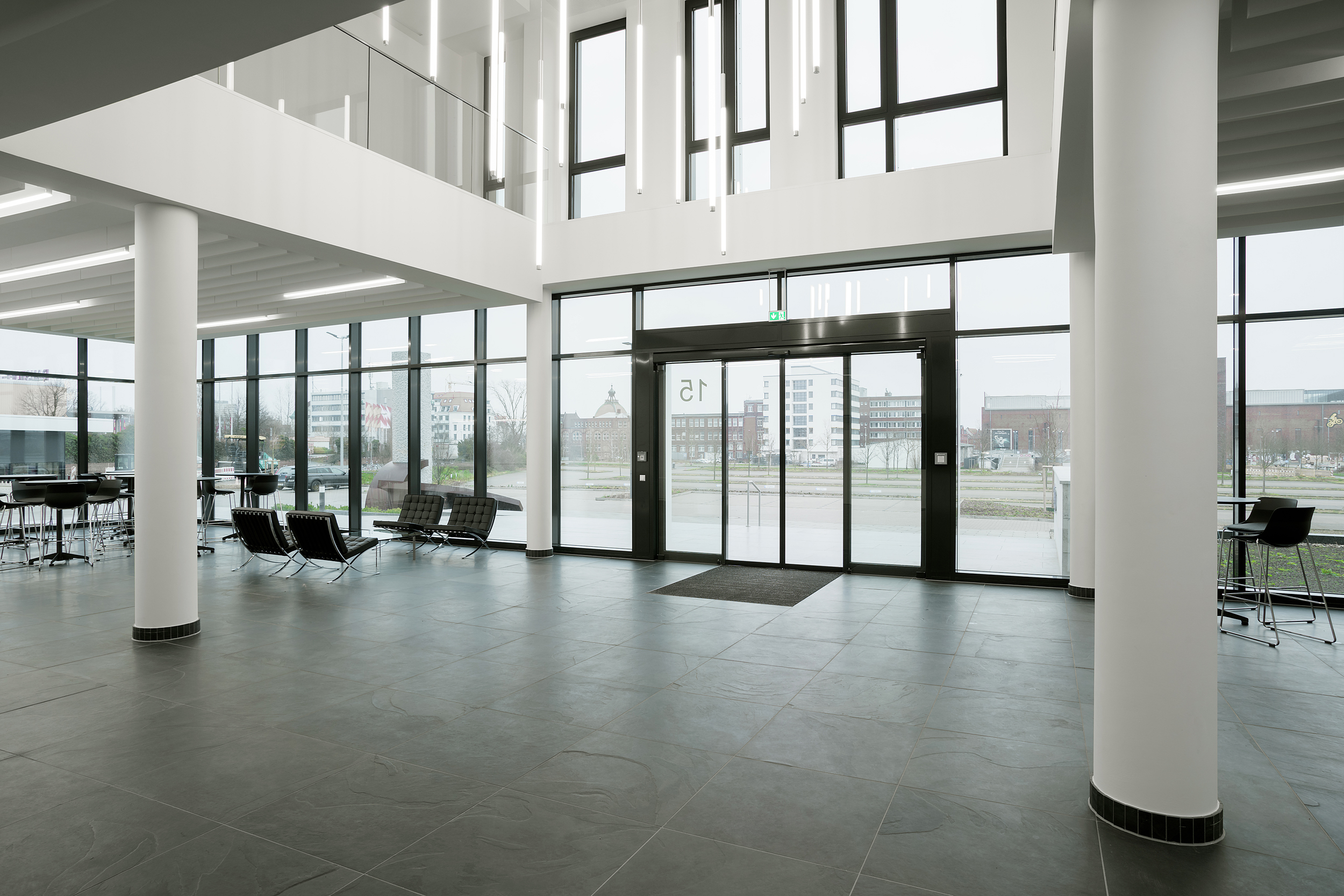 What key aspect(s) of the New European Bauhaus initiative does the project fit best with?
How does the project contribute to these aspects?
Architect Michael Schmidt, Managing Director htm.a Architektur GmbH: "We are very pleased with the result. We were impressed by how smoothly the room formation fits into the construction process. It is very quick to erect the walls because the whole component is created in one step and not in several stages. I can see the finished wall immediately in front of me, and the room can be experienced even before the final finishing. The cleanliness of the construction site also contributes to this prompt constructive perception. This makes for a tidy, clearly structured construction site. When the room formation with gypsum blocks is completed, we can give the building owner a first early impression of the future room structures of his project immediately afterwards."