Eligibility period
Historic achievement (1961-2011)
Client
Fundación Centro Cultural Internacional Oscar Niemeyer – Principado de Asturias
Gypsum product manufacturer
Saint-Gobain Placo
Architect/Designer
Oscar Niemeyer
Builder/Contractor
Aisvenor
Project start/Completion date
April 2008- March 2011
Cultural Center designed by the recognized architect, Oscar Niemeyer, is located in Avilés, Asturias. The main bulk of the operations carried out in the building were performed in ceilings, where Rigitone was chosen as an innovative solution to provide the correct acoustic comfort and reduce the reverberation of this multifunctional space. Its neutral aesthetic combined with the indoor air quality thanks to the Activ'Air Technology applied in this plasterboard, fulfill the expectations and necessities of this project.
One of the challenges was to create the perfect ceiling finishing through a correct jointing process. Another challenge for the installer relied on the curves created along the perimeter, fixing the boards to a high-level curved structure, using a special plasterboard system.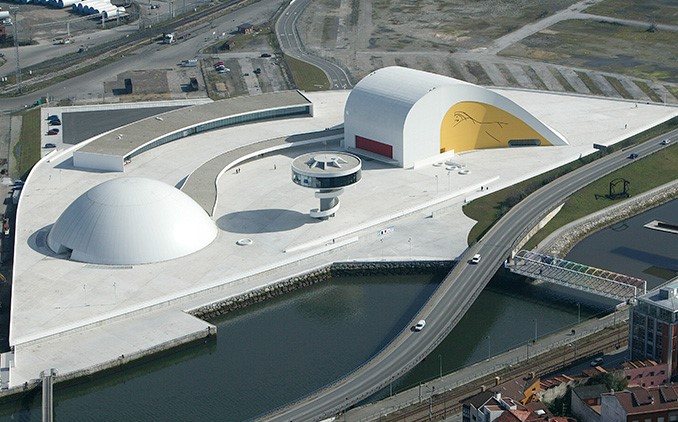 What key aspect(s) of the New European Bauhaus initiative does the project fit best with?
How does the project contribute to these aspects?
Improve quality of life: due to Activ'Air® technology in Rigitone® ceilings, that provides better indoor air quality. Innovation: using new plasterboard systems for curved structures and for the improvement of acoustic and reverberation control. Aesthetic & Design: solutions curved for creating inspirational spaces, providing a pure and clean aesthetic.