Eligibility period
Recent achievement (2012-2021)
Gypsum product manufacturer
Knauf Gips KG, Iphofen
Architect/Designer
Wurz und Partner GbR Architekten, Ingenieure, Baden-Baden
Builder/Contractor
Frietsch Gipser und Stukkateur GmbH, Baden-Baden
Project start/Completion date
2019/2020
Project start/Completion date
© Knauf/Roger Schwarz
The upper school of the Markgraf-Ludwig Gymnasium in Baden-Baden urgently needed a classroom for preparing and following up on lessons. A room of approx. 45m2 had to be created that would guarantee a quiet learning atmosphere without having to alter the existing building. Only in the spacious staircase of the existing building did the heritage office allow the creation of a self-learning centre – however, under the condition that it should visibly stand out from the existing building. Since the new room is located within an escape and rescue route, it also had to meet the fire protection requirements F 30. It had to follow the outline of the existing staircase, from which the space for the escape route was simply deducted. And it had to interfere as little as possible with the existing building and be as adjustable as possible. The solution was a Knauf Cubo room-in-room system designed in F 30, which provides airborne sound insulation suitable for use as a learning centre. Based on a design floor plan, Knauf SOKO (Special Construction Objects) developed an independent room body with a free-span ceiling. For the substructure, straight and curved profiles including six reinforced UA profiles were prefabricated to the exact dimensions. The scope of services also included prefabricated elements made of diamond plates in four different radii with inner and outer curves, including precise assembly planning, as well as V-milled GK boards for the frieze running around the ceiling. The dry builders set up the delivered substructure of reinforced UA profiles, straight UW profiles and sinusoidal profiles for the formation of the round corners as well as CW profiles on site and anchored the free-standing construction at two connection points in the existing building. As the upper room termination, they installed a ring of doubled UA profiles screwed to the UA profiles of the walls and sinusoidal profiles screwed underneath for a self-supporting ceiling system. The Cubo is clad on both sides with two layers of Knauf diamond boards in the form of prefabricated quarter and half shells or straight elements. It guarantees the fire resistance F 30, while Knauf mineral wool inserted in between delimits the learning space in terms of sound insulation. The finished construction was filled in Q3.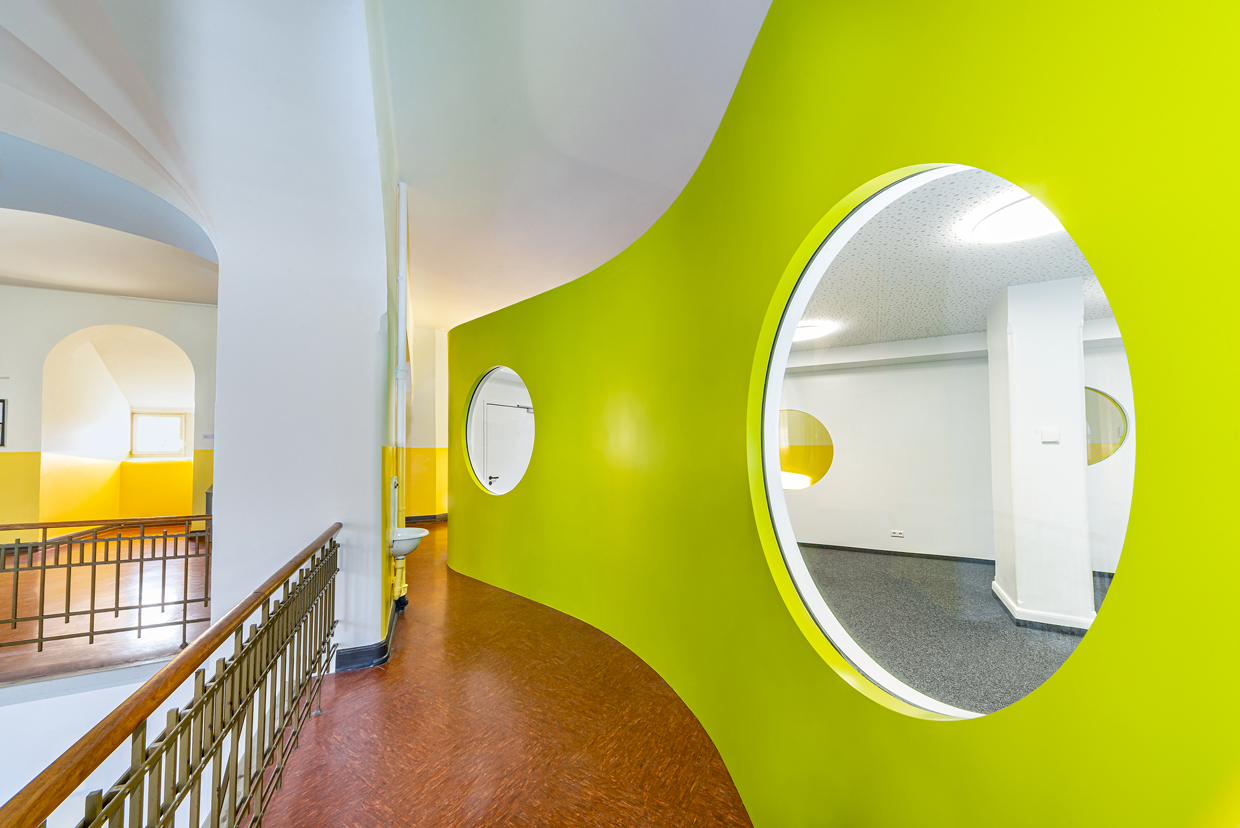 What key aspect(s) of the New European Bauhaus initiative does the project fit best with?
How does the project contribute to these aspects?
Innovative room-in-room concept with high sound insulation and flexible room use