Eligibility period
Recent achievement (2012-2021)
Gypsum product manufacturer
Siniat
Architect/Designer
KURYŁOWICZ & ASSOCIATES
Builder/Contractor
PB Inter-System S.A.
Project start/Completion date
Completion date: 2015
The National Forum of Music was designed by Kuryłowicz & Associates as a monumental building with six ground floors and three underground stories occupying almost 5 ha. While designing the Forum's façade, the architects were inspired by a string instrument's soundboard. The façades, cut with narrow glazed strips, are covered with a special material consisting of many layers of wood veneer glued with resin. The interior is equally breathtaking: the vast and high foyer is surrounded by oblong inclining stairs. The whiteness of the stairs contrasts with the blackness of the floor and some walls, reminiscent of a piano's keyboard or a virtuoso's tailcoat.
The National Forum of Music is one of Europe's biggest complexes of concert halls coupled with a recording studio, conference rooms, a library and all the infrastructure required in this type of facilities: rehearsal rooms, wardrobes, cloakrooms, a café, and a bookshop for music lovers. The Forum's four concert halls can accommodate in total more than 2500 spectators (the biggest hall is designed for 1,800 people, the smaller ones are for 400 and two for 200 people).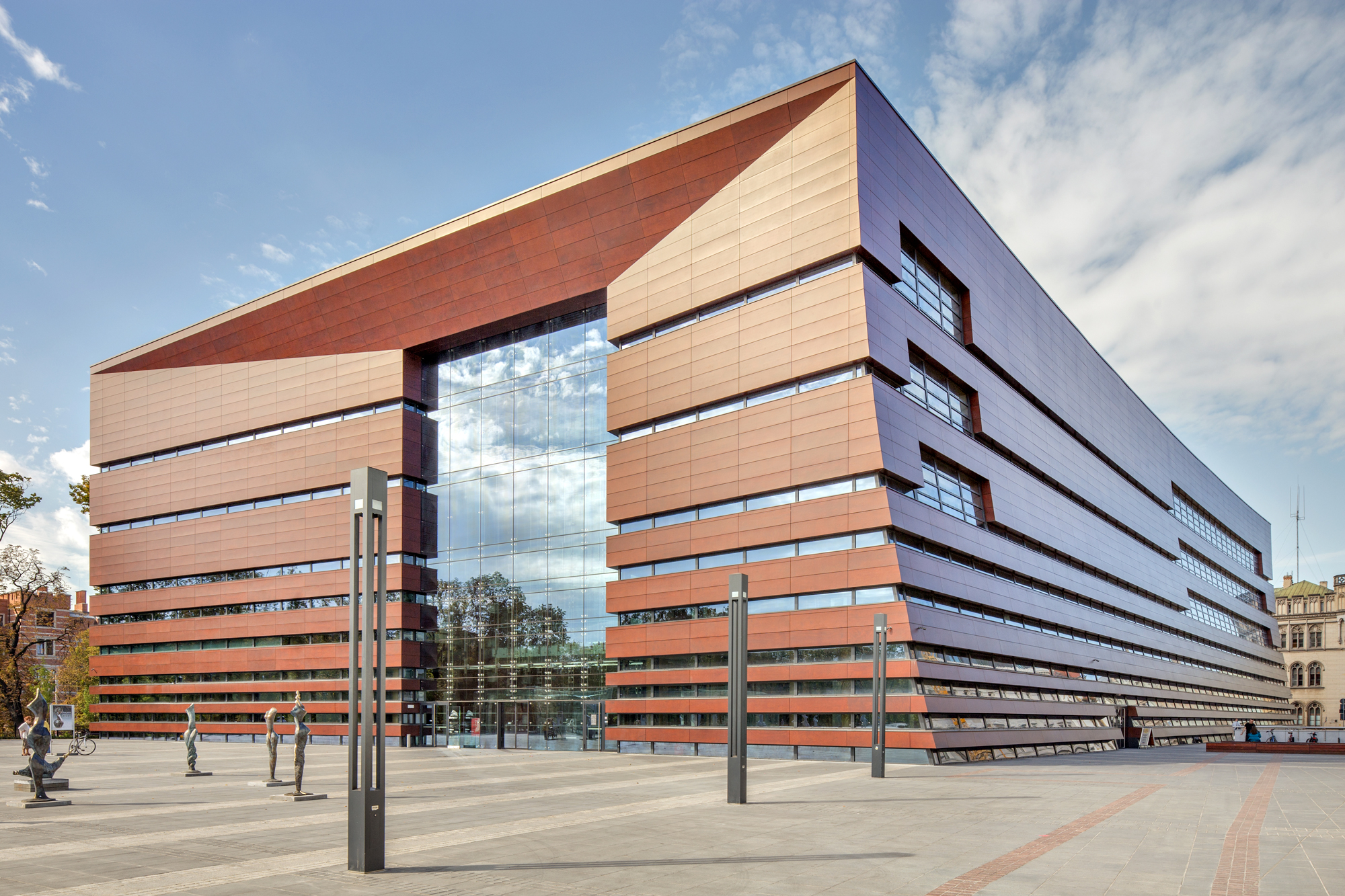 What key aspect(s) of the New European Bauhaus initiative does the project fit best with?
How does the project contribute to these aspects?
In the National Forum of Music, Siniat employed all its innovative and advanced technological solutions, thus making a significant contribution to this spectacular work of architecture. While cooperating with the architects, construction companies and designers, we felt fully responsible for the project, from the initial conversation with the investor through assembly of acoustic panels to the first sounds in the concert hall.